---
Office hours
| | | |
| --- | --- | --- |
| Mon | 08:00 – 13:00 | 15:00 – 18:00 |
| Tue | 08:00 – 13:00 | 14:00 – 19:00 |
| Wed | 08:00 – 14:00 | |
| Thu | 08:00 – 13:00 | 15:00 – 18:00 |
| Fri | 08:00 – 14:00 | |
Saturdays and private practice by
agreement daily 8 a.m.–8 p.m.
online appointment
A gynaecological and obstetrics practice in the heart of Berlin
W
elcome! The mission of our practice in the heart of Berlin-Mitte is to provide care relating to all aspects of women's health.
In our beautifully arranged practice rooms, we aim to treat you individually in a caring and supportive atmosphere. A team of highly experienced medical specialists provides state of the art medical care. Our priority is your well-being. We will take good care of you in every way. It is important to us to devote plenty of time to our patients. As part of our private practice we offer extended consulting hours to meet all of your needs.


We look forward to your visit!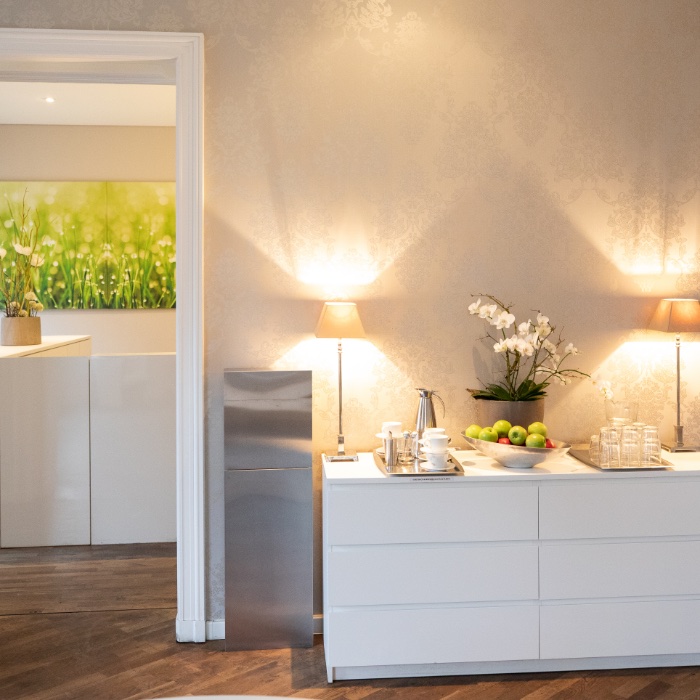 Our practice offers you the entire range of gynaecological and obstetric services. Specialist consulting hours for prenatal diagnostics provide exceptional support for pregnant women. Highly competent professionals and excellent facilities support the treatment of gynaecological illnesses and early cancer diagnosis.



Our strength is a well-established and experienced team of specialist physicians with expertise in all areas of women's health aided by diverse and caring staff. All our doctors have excellent professional reputations and are highly proficient in their fields. Their different specialisations complement each other and ensure excellent medical care based on the most recent advances in medical treatments.
How to find us
Getting here
U-Bahn (underground), U6, Stop: Naturkundemuseum
S-Bahn (urban train) Stop: Nordbahnhof, Friedrichstrasse, Hauptbahnhof
Tram 1, 6, 8, 10, 12

Parking
P 1: REWE supermarket (underground parking at Chausseestrasse 118)
P 2: Hotel Berlin Mitte (underground parking at Chausseestrasse 33)
P 3: Hotel Titanic-Chausseestrasse (underground parking at Chausseestrasse Berlin 30)
Plan your route with GoogleMaps